Whether you are a new gardener or an old pro, you might be looking for ways to get plants for cheap (or free). There are lots of ways to do this, and I put together a list of where you can find plants at reasonable prices.
So, how do you get plants cheap (or free)? One of the best ways to get plants cheap is to check the clearance rack at garden centers and plant nurseries, especially at the end of a season. You can get plants for free by asking friends or family for cuttings or seeds, or by propagating your own plants.
Some of these methods take a little patience, time, or creativity, but they can definitely save you some money. Let's look at some more ways to get plants for cheap or free.
---
Join 1000+ gardeners to get access to news, tips, and information.
Delivered right to your inbox – once per week.
---
How To Get Plants Cheap (Or Free!)
There are tons of ways to get plants for cheap or free – you just need to do a little scouting (and digging) to make it worthwhile. The first place I would look is the clearance rack.
Check The Clearance Rack In Garden Centers At Hardware Stores
Everyone knows that many items go on sale in stores at the end of one season as merchandise for the next season come in.
This is also true for plants in the garden centers at hardware stores, such as Lowe's and Home Depot. As fall and winter approach, plants will be brought indoors and put on clearance to sell quickly.
If you buy these plants and keep them alive over the winter, you can have healthy and well-established plants to transplant outside in the spring.
If you are lucky, you can find plants for cheap even when it is not the end of the season. Sometimes, it is hard for garden center employees to keep up with watering and care for the many plants that come in.
Often, plants that were neglected and look weak cannot sell for full price, so they go to the clearance rack. Some of these plants won't survive, but others can make a full recovery if given the proper care.
In the past, I have bought dried-up 25-cent specimens from the clearance rack at Lowe's and coaxed them back to full health. I was even able to propagate other plants from these "lost cause" plants (more on propagation later).
If you are making a trip to one of the hardware stores for a home improvement project or just buying potting mix at the garden center, it is worth stopping by the clearance rack to see what plants are available.
Stop By End-Of-Season Sales At Plant Nurseries
Plant nurseries will often have end-of-season sales, whether they are switching to new plants or closing after the spring/summer/fall rush is past.
The plants will die or be disposed of if there are any left over, so you can often get a deal if you offer to buy the plants "as-is" without a warranty as to how long they last.
You can also ask for a discount if you buy in bulk, and then share the plants with friends or keep them if you have a large garden to fill.
You can keep these plants alive over the winter as potted plants or in grow bags, and then transplant them outdoors once spring arrives.
For more information, check out my article on clay vs. plastic pots and my article on why to use grow bags.
Browse Through Yard Sales
Sometimes, a green-thumb gardener will include some extra plants as part of a yard sale. He may not be able to take all the plants with him if he is moving, or he may have propagated too many (I am guilty of propagating too many plants)!
You can often tell if a homeowner is a gardener based on the landscaping – if it is beautiful, you have probably found a gardening enthusiast.
Either way, you can often negotiate the price at a yard sale (just about everything is negotiable at a yard sale). This is especially true if you are willing to buy in bulk (e.g. "I will take all 10 of these plants for you if you take $20, instead of $3 each.")
You are more likely to get a discount if you establish some rapport with the seller and show that you care about plants and will take good care of them. If you buy some other items you need at the yard sale, you also have a better chance of getting a discount on plants.
Go To Garden Club Sales
If you look at local newspapers or search for local events online, you may find a garden club having a sale at a church, library, or community center in your area.
These sales are a good place to meet local gardeners who enjoy the same hobby that you do. You might also be able to find some plants at a bargain compared to what garden centers charge for retail prices.
---
Join 1000+ gardeners to get access to news, tips, and information.
Delivered right to your inbox – once per week.
---
Join A Local Community Garden
If you join a community garden, you will meet other gardeners who will most likely be happy to share their extra plants with you. Most gardeners buy more seeds and seedlings than they need, just in case they lose some due to pests, disease, or late spring frosts.
If they don't lose any plants in the early part of the season, these gardeners will have extra plants, and they will be looking for someone to take care of them. Even if you get a late start with these plants, you still got them for a good price (free!).
If you have your own extra plants or seeds to share, you can donate some to the garden or make a gift to other members of the community, for good karma.
You can often rent space at a community garden – for more information, check out my article on renting garden space.
Go To Seed Exchanges
A seed exchange is another place where you might be able to get free plants – eventually. Normally, heirloom seeds are exchanged, so if you have some from your own garden, you can bring them and trade for ones you don't have.
A seed exchange is another great place to meet other gardeners. If you strike up conversations with people, you might find that they live near you and have extra plants that they want to give away.
You never know, so keep your eyes and ears open to get some new plants for cheap or free!
Ask Landscaping Or Plant Services Companies
Many landscaping and plant services companies remove old plants every year (or every season) to refresh the interior or exterior of a building. If you talk to someone who works at or owns one of these companies, then you might be able to get old (but still alive) plants for cheap or free.
You will have to work out the exact details, but I have the feeling that you can get these plants for a good price. I once worked a few jobs with a plant services company, and the old plants removed from the landscape were often thrown away after the work was done.
Any money that a landscaper gets for these plants is found money, and you can avoid sending these plants to the trash bin – a win/win.
Check Online For Plants
If you go online, you can often find cheap or free plants, but only if you act quickly. Keep your eyes open and check the listings frequently.
For example, there is a "free" section on craigslist.org that sometimes has plants or shrubs listed for free. You will need to do the work of digging them up and transporting them before anyone else gets there.
You can also post to the "wanted" section that you are looking for plants and are willing to dig them up and take them away for free. This can be just the thing someone is looking for if they want to get some landscaping work done without paying a big fee.
Get Cuttings, Seeds, Or Extra Plants From Friends And Family
If you have friends or family members that enjoy gardening, then you can probably get some plant scraps that you can turn into full plants (given enough time).
For example, many gardeners will "top" indeterminate tomato plants that have grown too tall (by cutting off the top part that is growing above a support stake).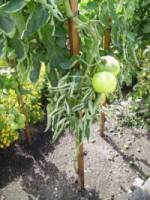 These cuttings can be planted in the ground, and will often grow into full-fledged tomato plants, given enough time and the proper care.
Many house plants can be propagated in the same way, simply by taking a cutting from the top of a plant, letting it dry out for a couple days, and planting it in soil.  Rooting hormone can also help the plant to establish itself more quickly.
Conclusion
Now you have a good idea of some of the ways to get plants for cheap or free.  You might also find some inspiration on this list to help you find more creative ways to get cheap or free plants.
I hope you found this article helpful – if so, please share it with someone who can use the information.
---
To find books, courses, seeds, gardening supplies, and more, check out The Shop at Greenupside!