If you haven't heard of grow bags, you will want to check them out! These bags can make gardening much easier, both indoors and outdoors.
So, why should you use grow bags? Plants in grow bags have healthier roots than plants in pots. Grow bags also breathe better and drain faster than pots. Grow bags are easier to move, hang, and store than pots. Best of all, you can make your own custom grow bags in any size you want.
Let's take an in-depth look at grow bags – what they are, benefits and drawbacks, how to use them, and where to get them.
What Are Grow Bags?
Grow bags are bags used to hold soil for growing plants, similar to clay or plastic plant pots. Grow bags can be made of plastic or fabric, and often have handles to make it easier to move them.
Grow bags range in size from 1 gallon all the way up to 200 gallons. Smaller grow bags are useful for plants with shallow roots, such as lettuce, tomatoes, cucumbers, and eggplant. Larger grow bags can be used for growing young trees.
What are the Benefits of Grow Bags?
There are many benefits of grow bags, including better root systems for your plants, better aeration and drainage, and easier use than traditional pots. Let's dive in to the benefits of grow bags.
Plants in Grow Bags Have Healthier Root Systems
One big benefit of using grow bags is what is known as air pruning. Air pruning leads to healthier root systems for plants grown in grow bags.
In traditional pots, roots will grow until they "hit the wall" (reach the edge of the pot). Then, they make a turn so they can keep growing into the soil.
Eventually, the roots circle all the way around the perimeter of the inside of the pot. At that point, they have nowhere else to go, and the plant is said to be "root bound".
This "root bound" effect does not happen with grow bags. Instead, when the roots hit the edge of the bag, they come in contact with the air, since the bag is breathable.
This air contact causes the root to stop growing. Then, new roots begin to form on the plant. This "air pruning" promotes many smaller roots on a plant in a grow bag. This is in contrast to a few large, swirling, tangled roots that you get with potted plants.
Grow Bags Allow Better Aeration
Grow bags are breathable, so they allow more soil to come in contact with the air than traditional pots. Better aeration prevents soil compaction, and this makes it easier for your plants to absorb nutrients from soil.
Since grow bags are breathable, they allow excess heat to escape on warm days. This means that your plants are less likely to overheat if left out in the sun.
Finally, when soil contains more air, water will penetrate the soil more easily, allowing more even watering (rather than some areas that are too dry and some that are too wet).
Grow Bags Allow Better Drainage
Drainage holes allow excess water to escape through the bottom of a grow bag. Also, grow bags have more soil in contact with the air, so they allow for more water to escape by evaporation.
This means that it is easier to prevent over watering when you use grow bags for your plants. For more information, check out my article on over watering your plants.
Grow Bags Are Easy to Use
Many grow bags come with handles, but if not, you can attach your own! This makes them easier to move than traditional pots, especially larger pots when they are full of soil.
Grow bags with handles are also easier to hang, using a rope or chain, for either indoor or outdoor use. Grow bags fold up flat, so they are easy to store in large numbers when the season is over.
You Can Plant Grow Bags in the Ground
Some grow bags are biodegradable, meaning that you can put them in ground with your plants and wait for them to rot away.
Another advantage is that grow bags can help you to start plants earlier in the season. This is especially helpful if you live in a cold climate with a short growing season.
You can use grow bags to start seeds or seedlings indoors in the winter. If the days are short, you can use grow lights or place the bags near windows for light.
When it is warm enough outside, you can transplant the grow bag outdoors without disturbing the roots. This eliminates a common cause of trauma and death for transplanted plants.
You Can Make Custom Grow Bags
The best benefit for do-it-yourself gardeners is that you can make your own custom grow bags. You can use either plastic or fabric – fabric is more breathable, but also more expensive. More on this later!
What are the Drawbacks of Using Grow Bags?
There are a couple of drawbacks to using grow bags, but if you take proper precautions, you can avoid these problems.
Grow Bags Are Not As Protective on Cold Nights
Grow bags are more breathable than pots, but this comes at the expense of insulation. Grow bags allow more heat to escape, and the soil inside will get cooler on cold nights.
This can kill plants left outside in grow bags if you get a late spring frost or early fall frost. The best way to avoid this problem is to check the weather forecast regularly.
If you see cold nights on the way, use a blanket or some type of extra insulation to wrap your grow bags in the evening before the cold. Just remember to take away the insulation when a hot day approaches, or you will cook your plants!
For more information, check out my article on how to protect your plants from cold and frost.
Grow Bags Need More Frequent Watering
Grow bags allow better aeration and drainage than pots, but this also means that you will need to water them more frequently. The soil in grow bags can dry out quickly when the air is dry (low humidity), temperatures are high, and the sun is out.
To avoid this problem, try using a drip irrigation system. You can use a hose with drip emitters at intervals so that you can water multiple grow bags at once.
You can also use a bottle watering system, which is useful if you are going on vacation and will not be able to tend to your plants for a week. This system ensures constant, even moisture levels in the soil within a grow bag.
Where Can You Get Grow Bags?
You can either make your own grow bags or buy them. Let's start off with custom grow bags.
Make Your Own Grow Bags
If you want to garden on a budget, making your own grow bags is the way to go. You can make your own grow bags if you are handy, but if not, you can still try!
Plastic is easier to use, since you can readily find plastic bags that are already in the proper shape. First, find a bag that has the proper volume for your planting needs. Then, cut small holes for aeration and watering in the sides of the bag, near the bottom.
If you opt to use fabric instead of plastic, one option is landscape fabric. If you want the grow bag to be biodegradable, you may need to do some research to find fabric that fits the bill.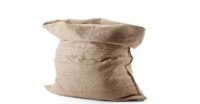 It will take some extra work to find the fabric, measure the lengths, cut the pieces, and stitch it together properly. However, the benefit is that you can customize the exact shape that you want!
For example, let's say you want a round grow bag that is 12 inches high and 10 inches in diameter. Then you would need 2 pieces of fabric.
The first piece of fabric, for the base, is a circle 10 inches in diameter. The circumference (perimeter of the circle) will be about 31.4 inches (circumference equals pi times diameter, where pi is about 3.14).
This means that you will need a second rectangular piece of fabric that is 12 inches long (height of the bag) by 31.4 inches wide (the circumference of the bag).
Once you have your pieces cut, you will need to curl the 12 by 31.4 piece of fabric into a circle, and then stitch the two ends together to form a "tube". Then, you will need to stitch the circular bottom piece to the circular "tube".
For other dimensions, simply multiply by the proper ratio. For example, let's say you want to double the diameter to 20 inches. Then you need a circular piece of diameter 20 inches, and a rectangular piece that is 62.8 inches wide.
To change the height, simply change the length of the rectangular piece. To find the volume of your grow bag, use the formula: volume = 0.79 x (height of bag) x (diameter of bag) x (diameter of bag).
Once you have your bag made, fill the bag with soil, fertilize as needed, and then plant your seed or seedling. Then, water regularly, using a hose, drip emitter, or water bottle setup as mentioned earlier.
Buy Grow Bags
You can buy pre-made grow bags at a garden center, such as Home Depot or Lowe's. You can also buy grow bags online. One source of grow bags is gardeners.com. For more info and pricing, check out grow bags on the gardeners.com website.
Amazon is another source for grow bags. For more info and pricing, check out grow bags on Amazon.com.
If moving the bags is important to you, make sure to buy grow bags with handles. For larger sizes (50, 100, or 200 gallons), the bag will be extremely heavy when it contains wet soil.
For some ideas about what you can grow, check out my article on what you can grow in grow bags.
Conclusion
Hopefully, this article shed some light on grow bags and their purpose, and how they can help you in your garden.
I hope you found this article helpful. If you have any questions about grow bags, or advice on how to use them more efficiently, please leave a comment below.
Recent Posts