Spirea offers beautiful flowers – and it can tolerate both partial shade and severe cold. Still, this leaves the question of drought tolerance for this flowering shrub.
So, how much water does spirea need? Spirea needs more water during the first year after planting. Once established, it needs very little water – an inch per week should be enough. Water spirea at the base when the top inch of soil is dry – avoid wet leaves! Spirea tolerates drought and somewhat moist soil (well-draining soil is best for this plant).
Remember that spirea produces a better show of flowers when it gets enough water (prolonged drought stress can prevent flowering). Spirea planted in full sun will dry out sooner, due to faster evaporation.
In this article, we'll take a closer look at just how much water spirea needs to survive. We'll also let you know how to avoid over watering this flowering shrub.
Let's get started.
---
Join 1000+ gardeners to get access to news, tips, and information.
Delivered right to your inbox – once per week.
---
How Much Water Does Spirea Need? (Spirea Water Requirements)
Spirea needs more water during its first year after planting. After it is established with a strong root system, you can dial down the watering.
A mature spirea shrub only needs about an inch of water per week. Just remember that this is only a guideline.
If you have hot dry weather, high wind, and fast-draining soil, you will need to provide more water. In a shaded area, the plant will need less water (but it will be less compact, and it will produce fewer flowers!)
Also, spirea will produce more of its showy flowers when it gets enough moisture, so keep that in mind as well.
Water spirea at the base when the top inch of soil is dry (you can check with your fingers by digging down a bit). Avoid overhead watering, which increases the chance of fungus on the leaves.
Instead, use drip irrigation or water near the base of the shrub to avoid wet leaves. Spirea tolerates drought – but if you want to conserve moisture to get more flowers, try a layer of mulch over the soil.
Spirea tolerates dry and moderately wet soil. However, it does not do well in soil that is extremely wet. Soil that stays too wet for too long leads to root rot.
Before you plant spirea, find a spot in your garden with well-draining soil. Heavy clay soil does not drain well and retains water for a long time.
(You can find some plants that grow well in clay soil here).
Is Spirea Drought Tolerant?
In general, spirea is drought tolerant. Still, there are some species that tolerate drought better than others.
Some spirea varieties, such as Western Spirea (Spirea douglassi), tolerate both drought and wet conditions. You can find more information on Western Spirea here.
Other varieties that tolerate low soil moisture are Blue mist spirea and Vanhouttei (Renaissance) spirea.
You can find Blue mist spirea here and Renaissance spirea here.
Does Spirea Need A Lot Of Water?
Spirea does not need a lot of water. Giving it a little more water might help a young plant to get established, or help an established plant to produce more of its attractive, fragrant flowers.
Some types of spirea tolerate moderate to high levels of soil moisture, such as Anthony Waterer spirea or Little Princess spirea.
Just don't overdo it when watering! It is definitely possible to over water any type of spirea.
Can You Overwater Spirea?
It is possible to over water spirea, which causes root rot and other diseases. Spirea prefers well-draining soil, and it can tolerate dry soil and drought conditions.
Over watering is more likely in these situations:
Poorly draining soil – some soil (clay types) is heavy, due to its tiny particles that hold water. As a result, clay soil stays wet for a long time and causes problems for spirea if you water too much. Plant spirea in sandy soil (or transplant them there).
Mulched soil – mulch retains moisture in soil. Normally, this is helpful for plants that need plenty of water. Since spirea doesn't need a whole lot of water, mulch can keep the soil too wet and lead to the problems mentioned earlier (like root rot).
Automated sprinkler – with an automated sprinkler system, your spirea might get too much water. It isn't a good idea to plant spirea near water-hungry plants. Instead, create two separate areas in your garden (one dedicated to "dry" plants, and another dedicated to "wet" plants).
To summarize: too much water is more likely to cause trouble than not enough water, since spirea tolerates drought.
If you already over watered spirea and you don't think it can be salvaged, there is still a chance. Even when the roots are rotten, you can take cuttings to propagate the plant and grow a new spirea shrub.
Just make sure that you are not propagating a spirea variety that is protected by a patent (usually, a label that comes with the plant when you buy it will tell you this – it will often say "Propagation prohibited" or something like that).
How Often To Water Spirea
In many cases, you can water spirea just once per week. It might even be possible to go 2 weeks or more between waterings.
It all depends on the weather and season:
Dry, hot, summer with high wind with low rainfall: water more often (once every week, or possibly more).
Wet, cool conditions in fall or spring: water less often (once every 1 to 2 weeks).
Winter: water sparingly (spirea is dormant after its leaves fall off).
If you are unsure, one way to tell when it's time to water spirea is to feel the soil near the base of the plant with your hands and dig in a bit:
Soil that is dry and dusty on top, and also dry as you dig a little deeper: go ahead and water.
Dry soil on top with slightly damp soil deeper down: wait a little while to water (keep an eye on the plant).
Moist topsoil: wait a while to water.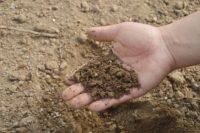 Pay attention to the weather forecast. There is really no point in watering if a thunderstorm is approaching!
Conclusion
Now you know just how much water spirea needs (very little once established!) and how to keep your plant watered when you are away.
Spirea is deer resistant and it tolerates severe cold (some varieties more so than others) – you can learn more about spirea's impressive cold tolerance here.
You can learn about the best soil type and conditions for spirea here.
I hope you found this article helpful. If so, please share it with someone who can use the information.
---
To find books, courses, seeds, gardening supplies, and more, check out The Shop at Greenupside!
---
To find books, courses, seeds, gardening supplies, and more, check out The Shop at Greenupside!