Whether you have already planted your potatoes or not, you might be wondering how long it will take for the tubers to grow to full size.
So, how long to grow potatoes? It takes from 60 to 160 days to grow potatoes (80 to 120 is more common). You can harvest new potatoes (which are smaller, with thinner skins) sooner than mature potatoes. Early season potatoes mature the fastest, while late season potatoes mature the slowest, and mid-season potatoes are somewhere in between.
Of course, if you have a short growing season, you might want to specifically choose early season potatoes. If you don't have to worry as much about frost, you can go for mid-season or even late season potato varieties.
In this article, we'll talk about how long it takes to grow potatoes. We'll also answer some common questions about potato growth, maturity, and harvest.
Let's get started.
---
---
How Long To Grow Potatoes? (Days To Maturity)
It can take anywhere from 60 days to 160 days to grow potatoes! This is quite a wide range for days to maturity, and there are a couple of reasons for this:
Desired Harvest – if you opt for new potatoes (smaller tubers with thinner skins), you will be able to harvest sooner than mature potatoes (larger tubers with thicker skins).
Type of Potato – there are three basic types: early season, mid-season, and late season potatoes. As you can guess, the early season potatoes take less time to mature, while late season ones take the longest.
Keep in mind that the distinction between early season, mid-season, and late season potatoes often differs from one seed company to the next. Also, there is some variability in times to maturity: you might see "80 to 90 days" listed in a seed catalog (meaning an average of 85 days, plus or minus 5 days).
Here are some early season potato varieties:
Adirondack Blue
Algonquin
Belmonda
Dark Red Norland
Natascha
Purple Viking
Red Gold
Here are some mid-season potato varieties:
Caribou Russet
Gold Rush
Huckleberry Gold
Kennebec
Satina
Strawberry Paw
Finally, here are some late season potato varieties:
Elba
French Fingerling
Magic Molly
Pinto Gold
Princess Laratte
Russian Banana
For your reference, the table below compares various types of potatoes and their days to maturity, skin color, and flesh color.
Variety
Days
(Avg)
Skin
Flesh
New (some
varieties)
60
Varies
Varies
Chieftain
65
Red
White
Natascha
65
Yellow
Light
Yellow
Prada
65
Tan
Light
Yellow
Sangre
65
Red
White
Upstate
Abundance
65
Tan
White
Algonquin
70
Tan to
Brown
White
Red Gold
70
Red
Yellow
Belmonda
80
Yellow
White
Yellow
Dark Red
Norland
80
Red
White
Irish
Cobbler
80
Tan
White
Purple
Majesty
85
Dark
Purple
Dark
Purple
Adirondack
Blue
87
Dark
Purple
Dark
Purple
Yukon
Gold
87
Tan
Light
Yellow
Carola
90
Yellow
Yellow
Kennebec
90
Tan
White
King
Harry
90
Tan
White
Red
LaSoda
90
Pink
White
Viking
90
Pink
Red
White
French
Fingerling
100
Rose
Yellow
w Pink
Magic
Molly
110
Dark
Purple
Dark
Purple
Purple
Peruvian
110
Dark
Purple
Light
Purple
German
Butterball
112
Yellow
Yellow
Canela
Russet
115
Tan
Bright
White
Gold Rush
115
Brown
White
Nicola
115
Yellow
Yellow
Russet
Burbank
120
Tan
White
Butte
122
Tan
White
This table shows the time to maturity, skin color,
and flesh color for various types of potatoes.
Note that potatoes can mature faster or
slower than the average times listed.
How Do I Know When My Potatoes Are Ready To Harvest?
Mature potatoes will be ready to harvest 2 to 3 weeks after the foliage starts to die back (that is, when the vines and leaves start to turn yellow and fall over).
Mature potatoes take longer to grow than new potatoes, since they need more time to bulk up and develop thicker skins (waiting for thicker skins help to improve storage life).
You can always dig up a sample tuber from one plant to see how they are progressing – if they are small, you can wait a little longer to give them more time to grow.
If you want to harvest new potatoes (smaller tubers with thinner skins), a good rule is to harvest 2 to 3 weeks after the plant stops flowering.
If the plant doesn't flower, you'll have to play it by ear and dig up tubers occasionally to see how they are progressing (6 to 8 weeks after planting is a good time to think about doing some digging for new potatoes)
---
---
Are Potatoes Ready To Dig When They Flower?
Potatoes are not quite ready to dig when they flower. Even for new potatoes, you should still wait until 2 or 3 weeks after the plants flower before you dig up your tubers.
However, flowering is a good sign that your potato plant is healthy and getting closer to maturity. Sometimes, if the flowers are properly pollinated, they will produce fruit (small spheres that look like green cherry tomatoes).
This fruit is toxic (don't eat it!), but they contain potato seeds (usually, you grow potatoes by planting tubers, not with potato seeds).
What Happens If You Dig Up Potatoes Too Early?
If you dig up potatoes too early, they won't be fully mature, and there will be some problems as a result:
The tubers will not be as large as they would have been at maturity.
The skins will not be as thick, meaning they won't store as well.
If you dig up potatoes too early, you might still be able to salvage some new potatoes. These have thin skins and do not store well, so they would only be good for eating right away.
Luckily, new potatoes have such thin skin that you can cook them without peeling them first.
Can You Eat Potatoes Right After Harvest?
You can eat both new potatoes and mature potatoes right after harvest – as long as they are not green. Potatoes turn green after sunlight exposure, due to chlorophyll production.
Often, they also become poisonous after sunlight exposure, due to production of the toxin solanine. You can prevent green tubers by hilling your potato plants as they grow.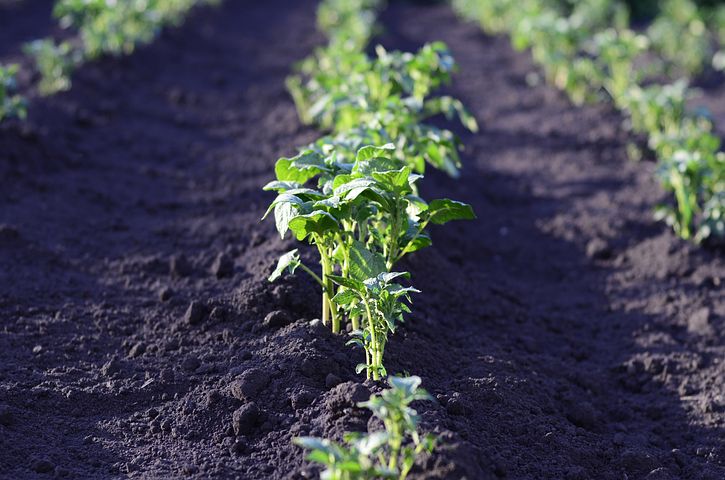 If you harvest new potatoes, you will probably want to eat them immediately, since they don't store well for very long.
For mature potatoes, you can either eat them immediately or cure them to prepare for long-term storage.
To cure potatoes for storage, put them in a dark, humid area with good ventilation for 7 to 10 days. Curing potatoes gives them a chance to heal any cuts or bruises on the surface and to thicken their skins. This will give them a longer storage life.
The ideal conditions for curing potatoes is at a temperature of 45 to 60 degrees Fahrenheit (7.2 to 15.6 degrees Celsius) and relative humidity of 85% to 95%.
If you don't have an area with such high humidity, you can put the tubers in perforated plastic bags. This will increase humidity and still allow the potatoes to breathe.
Go through your cured potatoes and discard any that are soft or shriveled. If they rot in storage and the rot spreads to other tubers, you will lose much more than the potatoes you throw out now.
You can find a list of some potatoes that store well for a long time here.
---
---
Conclusion
Now you know how long it takes to grow potatoes of various types, and also how to choose varieties that will mature faster.
I hope you found this article helpful. If so, please share it with someone who can use the information.
You can learn about seed potatoes here.
You can find a guide for planting potatoes here.
---
To find books, courses, seeds, gardening supplies, and more, check out The Shop at Greenupside!